Author: Omar Hagrass, Co-Founder and CEO at Trella
Together, Today, The world is marching into uncharted territory. COVID-19 is affecting the lives of many; our families, communities, and businesses are no exception. As we navigate through the impact of the global pandemic, we want to make sure our position is clear. Trucking won't stop, and we, at Trella, are committed more than ever before.
First and foremost, we echo the world' sorrow on the harrowing toll this virus has taken, and is yet to take. Our hearts go to all those impacted by the rapid spread of the virus. Our thoughts and prayers go to the heros in the healthcare industry – Keep going, You inspire us.
Second, we wanted to highlight our take on the current situation – so for the little that they're worth, here is our perspective: a. we are committed b. supply chain never stops
// We are Committed.
We are committed to our communities

, carriers and shippers. Our Community Operations team is in daily sync with our Carrier-partners and are constantly sending reminders on the necessary precautions against the virus. Our Shipper Operations team, on the other hand, are notifying our Shipper-partners that our doors are wide open and that we are operational 24/7 and are here to support with any capacity. The bottom line – We continue our mission to serve our partners with no intentions of slowing down our operations. We will take action based on guidance from local and international public health organizations.

We are committed to our shareholders

. Our mission is to provide our investors with fast and sustainable growth. COVID-19 has given us a golden opportunity to push ourselves to the limits and deep-dive into how efficiently we are growing, and shred some fat. We are now doing more with less. We are, also, committed to employee ownership as part of our capital structure.

We are committed to our societies

, in both Egypt and Saudi. Trella is fully devoted to keeping the flow of goods moving during these uncertain times. Throughout the entire crisis, Trella is diligent to helping all businesses in the healthcare and pharmaceutical industry by subsidising any load directed to help those in need, and tendered via our platform.

Last, but not least,

we are committed to our Team

– For without them, none of the above is achievable. To my Trellans, I say "We miss you but

WFH gets us moving

. Keep fighting the

Good Fight

– This

too

shall pass."
// Supply Chain Never Stops.
The goods will need to continue flowing and trucking won't stop. A resilient supply chain has a diversified pool of supply and demand and a contingency plan to instigate backup resources at any time. In order to detect a crisis is on the horizon, we took a step back and mapped out the origin points of our customers' goods: This gave us a lot of oversight, for example, we were able to see the hit in our imported loads in KSA early in Feb due to a slowdown in Chinese movements and accordingly we shifted gears to serve other customers for us to keep the ball moving. Without that kind of detailed supply chain mapping, it would have been difficult to know where our vulnerable links were.
With that being said, we weren't all that surprised to see our numbers skyrocket in March – we had a healthy 30% growth MoM, despite the virus slowing down a few major industries that we serve. The charts below are a good visualization of the current situation.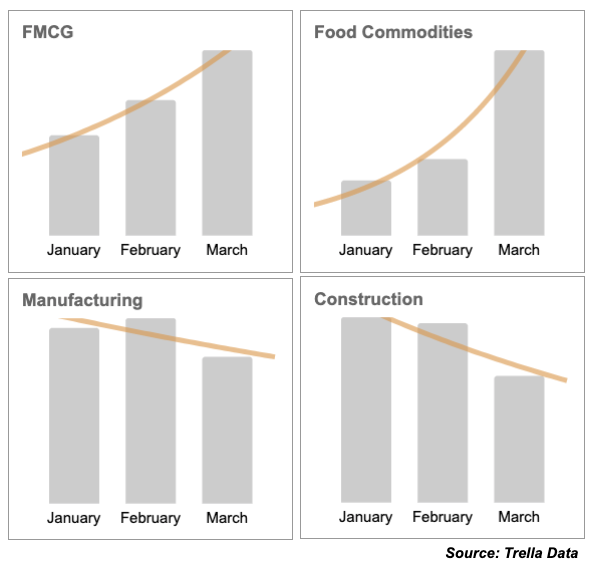 On the supply side of the business, we've seen a drop in fulfilment hours given the curfews set in our markets. Albeit authorities exempting trucking from the curfew, owner operators are still not very comfortable running their vehicles during the curfew. This has prolonged our delivery times. As a result, we've increased our carrier onboardings and have seen a significant jump in our new carriers metrics (see chart below).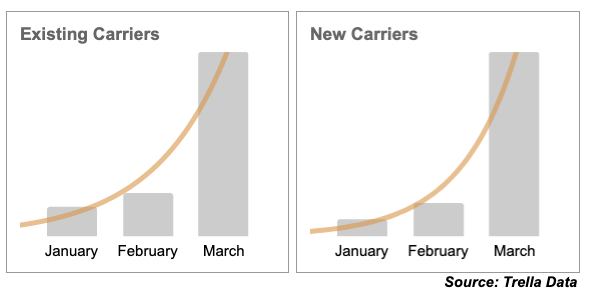 For as long as I remember, we've been witnessing seclusive behaviour on gender, race, colour, religion, and the list goes on. This time, today, we're all putting our differences aside for a moment and, for the first time, the whole world is united against one evil: COVID-19. Optimists also look at COVID-19 as 'nature's way' of giving our environment a break, and saving the planet. Others also look at this as an opportunity to capture more digitization and a long-awaited push for innovation. Trella is at the forefront of this change. There is light.

On behalf of Trella team,

Omar