Today, the world is celebrating international women's day with the theme focused on #ChooseToChallenge. This theme resonates deeply with Trella, given how Trella was founded to challenge the traditional trucking and logistics industry and disrupt the status quo on all fronts.
Females in Logistics is a global challenge, wherein US/UK you find ±<35% of roles filled by Females. If you focus on the Middle East, this number reduces significantly, roughly contributing around ±5%. Trella has achieved 5x this, achieving ±25% of its workforce being female. While this is a great achievement, based on the challenge of sourcing talent in Logistics in the Middle East, it's far below our goal.
We couldn't pass this opportunity without giving credit where it's due and celebrate our amazing Female Trellans. Of all the industries to apply their skills, they have chosen to tackle arguably the hardest, the logistics industry, and subsequently have realized that they weren't only embarking on a tough challenge, but were also change-makers in challenging norms, biases, and moving the entire industry forward.
"We consider ourselves incredibly proud, and lucky, to have attracted such female talent to Trella." highlighted Omar Hagrass, Trella's CEO. "Diversity is not only about percentages, it is more than that, and at Trella, this is what we are trying to promote. Our female talent features in all our businesses, additionally leading many of our teams across Egypt, Saudi, Pakistan, and South Africa – moving us internally and externally forward." :
We took this chance to ask a few questions on how our Female Trellans got into Digital Trucking, what are the challenges they typically face, and their advice on navigating such uncharted territories.
Q1 - When the question of "What got you into Trella, knowing it's trucking and logistics?" was asked, it was quite surprising to hear the answers of our Trellans as it shows great grit and hunger for impact. If a sentence could summarise some of the answers below, it will be: Bring it On! 
"Before I started working at Trella, the industry was practically invisible to me, as I imagine it is to most people. But it's full of interesting operational, technical, and economic problems to solve, and because of its sheer size, even incremental changes can have a massive impact," said Fatema Soliman, one of Trella's rising Product Managers, on how she dived into the challenge.
Talking to Fadila Hassib, who joined Trella right after graduation and is currently managing Pricing across Egypt's Marketplace, she mentioned how closely she was monitoring the startup scene and looking for the right startup to join. She knew Trella was her calling, saying: "with Trella tackling such a tough challenge as trucking, I instantly knew that I wanted to be part of it and that I could learn so much from such a dedicated team who're fighting to change the status quo."
Habiba Eissa, who's leading Investor Relations, told us that people were actually surprised when she decided to leave her prominent banking role to start a career in logistics. She said: "what got her into Trella was knowing that to get the job done, I would need to master crucial skills such as problem-solving, analytics, and deep industry knowledge."
Habeeba Khattab, who's managing Shipper Operations in Egypt, highlighted that she actually had experience in corporate logistics but decided to join Trella saying: "working in this field is extremely tough and it was time to explore a company like Trella that is attempting to solve significant issues using technology.
"Nadeen Abdelrahman, Product Analyst, interestingly told us how being told "NO actually shaped her to who she is today and went on by saying:" I did my bachelors in Aerospace Engineering, where I was 1 of 4 female students in my class. During my first professional internship in the field, I was told that I cannot apply for a full-time position because this is not a job for women. These experiences have shaped who I am and honestly, I never stop to think this is a challenge and I want to take it up, I was just intrigued by the industry and I wanted to be part of the change – and this industry just happens to be male-dominated."
Q2 - It's quite fascinating getting to know how a few of our Trellans got to join, but we still had to ask the question everyone asks them, which is "What is it like working in an industry as rough as trucking and what are the challenges you typically face?"
Hend Emam, who's leading Financial Planning and Analysis, highlighted how working in such a demanding industry is not an easy task, citing how fragmented the trucking industry is, versus how Trella is approaching it, trying to be fast-paced, and a breaker of stereotypes and status quos.
Nada Salah, our Marketplace Manager in Egypt, further emphasized the progress Trella is making: "I must admit that Trella is doing a great job at breaking the mold. There are many women leading great initiatives here. It's great to work at a place that doesn't submit to the status quo and actually lets the best person for the job lead the way."
Tehrim Malik, who's leading Demand Generation in Pakistan also supported Nada's views, adding: "the logistics industry indeed suffers from poor perceptions about career opportunities for women. However, Trella has proven to be a trailblazer in the trucking industry. Not only in terms of the disruption it is creating but also the amazing opportunities it provides to its people. It allows me to learn and grow every day."
Given how technology is at the core of everything we do at Trella, Nataly Wadie, our Test Automation Engineer also mentioned that being on the software side of Trella, it's quite challenging to think like the end-users and to make sure that the software is as user friendly and easy to use as possible.
Solving challenges through Technology was also echoed by Haidy Emad, our Android Engineer, as she highlighted how she strongly believes that technology is here for people's happiness and how challenging, yet extremely rewarding it is to always innovate and discover new ways of doing things.
Q3 - Aside from the surprising fact that a considerable percentage of Trella's team is females and growing stronger each day, we were very curious to know the most surprising part our Female Trellans discovered going into Trella and the trucking industry?
Hedy Nassar, our Marketing Lead highlighted: "I was surprised that there are plenty of strong women striving to break the norms and shine in this industry. Whether that'd be female carriers, females leading logistical managerial positions, or others owning businesses. No matter the position, females in logistics are ensuring they stand out in the field. Chapeau to all of them, and these are the real women making a difference and breaking all cultural norms and traditions that are no longer accepted or tolerated!"
Amna Zahid, who's our Demand Planner in Saudi, added to Hedy by saying: "the most surprising thing is how natural it feels being in this industry and in dealing with the shippers and all stakeholders regardless of the stereotyping received socially."
Quoting Mariyam Asif, who's part of our Operations Team in Pakistan, she said "I was pleasantly surprised at how supportive and helpful my team was and how motivated they kept me and pushed me to improve every day, despite being an undergraduate student working remotely. Moreover, it was quite surprising to see the vast career opportunities available to women than I previously thought would be in an industry that is widely believed to be male-dominated."
Engy Ahmed, our Business development representative in Saudi, said "the most surprising part that I discovered in Trella, and this industry, is that it doesn't have to be only for men if you come in with the right mindset and drive"
Fadila summarised her surprise joining Trella as "unreal". She explained: "My biggest surprise yet was finding a female carrier, who owned two trucks and would always speak up. This definitely gave me a motivational push. If the female carrier can operate in such a male dominant industry, then we can continue disrupting the industry."
Q4 - The million-dollar question: how can more and more women break barriers and stereotypes by joining and balancing the once male-dominated industries like trucking and logistics. We asked, "What is something you want to share with other women afraid to go into male-dominated industries?" 
Kinola Govender, our Senior Regional Recruiter in South Africa, shared her personal experience as a message of hope for females: "I think for me personally, it is a journey that I have embraced. I feel empowered knowing the experience that I've built thus far and the value I've learned and added in a very male-dominated environment is something that has only enhanced me as an individual and my career 10 fold. It's not something that you would find in any other company or environment and it's what drives me to wake up every day and say I've CONQUERED a male-dominated industry :)"
Kynaro Kinnear, our Strategy and Planning Analyst in South Africa, echoed what Kinola said, stating: "Don't look at it as a male-dominated industry, look at it as a challenge, a chance for you to make a name for yourself that won't be forgotten. Remember you can do anything as good if not better than the next if you put the time and dedication into it."
Samia Hagrass, our Community Strategy & Experience Coordinator said: "I believe an industry should never be defined by gender, and honestly it never crossed my mind when joining Trella. For those in doubt, just remember that as more females get into "male-dominated" industries, the more likely the labeling diminishes. So dive in head-first!"
Mahi Elattar, our reporting and controlling Manager, summarized saying: "An advice I got one month into joining Trella was that women do make a difference in the work environment, they make it more friendly and their way of thinking (which is different to male colleagues) contributes positively to how things work. However, something I want to share with other women, is that they shouldn't be afraid of being labeled as bossy or aggressive, just because they're trying to raise their voice and stand up for what's right for the business."
We could honestly write volumes to cover all the amazing insights we collected by talking to these amazing Women. In summary, it's a great pleasure to work with you, and can't wait to see how your input and simply being YOU would move this industry and everyone impacted by it forward.
Thank you to our incredible Female Trellans who participated in the interview.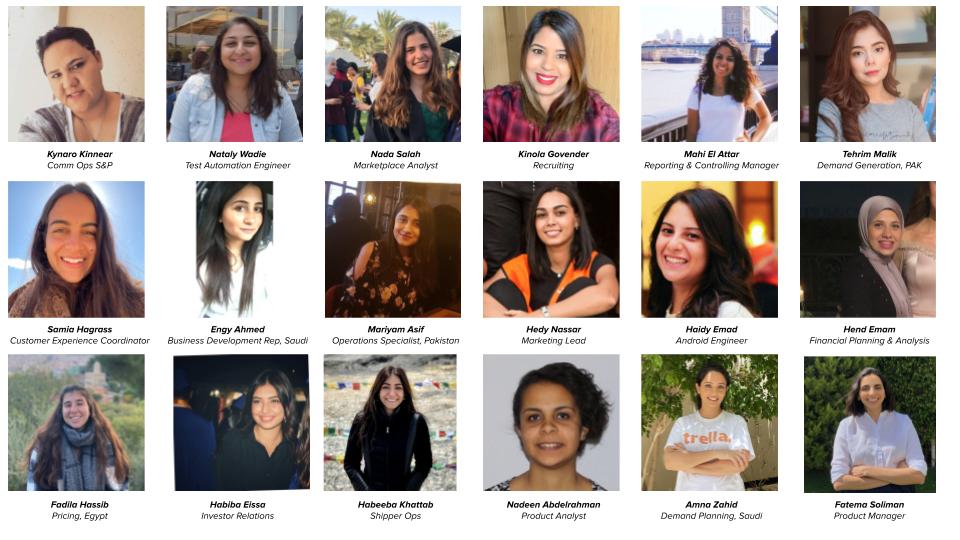 Follow us for more insights on Trella's Instagram page.