Trella launched Pakistan in October of 2020 as its third and most promising market. The aim was not to chase growth for the sake of growth, but to be precise in terms of strategy and direction, provide the best user experience, and to understand the market for further growth and expansion. Since its launch in Pakistan, Trella has continued to work towards enabling the players within the trucking industry through the power of its service and platform, with the aim of leading the Digital Transformation of the Logistics Industry.

Detailed by Saim Chaudhary, Trella's Senior Country Launcher and Peter May, Head of Global Expansion.
Why Pakistan?

A high-performing and efficient logistics industry are crucial to the success of any economy in the world. Pakistan, the world's 5th most populous country, has a massive logistics industry valued at over $30 Bn USD. The majority of the freight (~94%) is moved via a road network that comprises national highways and motorways from Gwadar Port all the way up to Khunjerab Pass into China. 
Moreover, Pakistan is seeing rapid road infrastructure growth with the support of foreign investment, which makes inland trucking even more crucial to the success of the logistics industry and the overall economy of Pakistan.

Despite the importance of the trucking industry, progress is being hindered by fragmentation, transparency, and complex supply market dynamics. The industry is fragmented due to information asymmetry and the challenge of access to the supply market. This fragmentation is solidified by the need for secure and reliable transportation in a high-risk environment. The industry also relies on manual processes that require headcount allocation and increased service costs. Lastly, the supply asymmetry on the long haul lane presents a unique challenge of fluctuating rates on a daily basis and across various seasons.

If Pakistan's economy is to flourish, the industry needs to overcome these major challenges. With a lot hanging on the line, such challenges present major opportunities for local start-ups to create significant value across the supply chain, if approached in a considered and thoughtful manner.
Trella's Approach to Launch?

The challenges and complexity of the market dictate a localized and experimental approach to launch. An approach that over time can enable future scaling in alignment with product-market fit. The trucking industry seemed like a black box due to a lack of reliable data and research on the logistics and trucking industry, especially first-mile trucking and supply market dynamics. Therefore, it only made sense for us to understand the market by execution.

We set up our business in Karachi in October of 2020, leveraging an extremely lean team of two high-caliber individuals going through a list of potential leads. Our initial shipper touchpoints were not just sales meetings but also informed us about the opportunities and challenges within the market. We were looking for partners, not just shippers, who would be growing with us and would be willing to get on a journey for the transformation of the industry. It was also important for us to have strong links with the supply market. For this reason, we began setting up our supply hubs in the cities of Karachi and Lahore to be closer to the activity of the supply market.

The team set up was crucial to the success of the launch. We hired trucking industry veterans, who would provide us with reliable and cost-effective supply through their supply market network. This was coupled with young and energetic startup hires who would drive innovation and experimentation. The result; a mix of extremely motivated and talented individuals who would work together to set up a business is arguably the most complex market for Trella.
What have we achieved?

After almost 7 months in the market, our story has been one of growth. We have onboarded 1500+ carriers and serviced 25+ shippers in the industry thus far, ranging from logistics and trucking giants to major household brands. Our trucks have transported water to the major cities of Pakistan. They have brought the most widely used spices and sauces to your houses and favorite restaurants. And we are one of only two digital players propelling the E-Commerce industry forward through timely deliveries on inter-city shipments with live shipment tracking.

These successes were made possible by a strong local product and dynamic team. The global product team localized the product by rolling out key market-specific features supporting bidding and enabling geofencing. While our central teams, including Finance and Community Operations, set up localized processes and hired local talent to ensure a complete launch.

The energy of the global organization and cross-functional teams driving Pakistan Expansion has been unmatched. Trella's Finance and Product Teams based in Cairo have been up at 7 AM to enable smooth payments to vendors and fix product bugs. Community Operations, our ears, and eyes, were there to support us during mass protests that blocked important supply routes. We were able to give our shippers real-time updates on the location of the shipments, which provided them great trust in our service during times of distress.

The local team has been our foot soldiers carrying out meetings for customer acquisition from the SITE Area to Mauripur. Our Fulfillment Leads, for example, were found at fleet partner offices in Port Qasim at late hours of the night to resolve their issues for the successful completion of port moves. Both supply and demand require relationship-building to ensure successful execution. Gaining the trust of our users has now been integrated into our team's ethos and is a guiding force for us.
Market impact
Trella has been in the market in Pakistan for a short period of time, yet the impact that our business is having on the market is clear. Trella is driving change across key metrics of logistics competence, timeliness, and tracking; metrics that Pakistan has been historically underperforming on according to the World Bank Logistics Performance Index.

Logistics competence
Leveraging a digital platform, Trella is upskilling and enabling the truck providers in Pakistan to become more professional, and informed. The adoption of our product then transfers value onto our customers through better service quality and transparency. As an example, our customers are now able to effectively record gate in, gate out, and transit times, data that our customers need to drive efficiencies and performance for their own business.

Timeliness
As a dedicated service provider on first-mile trucking, our teams are focused on providing timely deliveries and ensuring there is a customer feedback loop that enables offloading / loading of vehicles for improved carrier and shipper experience. We actively manage our vendors' performance, ensuring on-time-performance through consistent follow-up with our carriers, and prioritizing high-performing vendors to build trust and credibility into the system.
Tracking
Trella is providing real-time tracking to its key customers supported by its strong product. This has not only enabled enhanced security and reliability but has provided our customers with insights on loading, offloading, and transit times. Trella is also partnering with like-minded tracker companies to enable our shippers with visibility across the long haul lane. All of this combined is propelling the industry forward one truckload at a time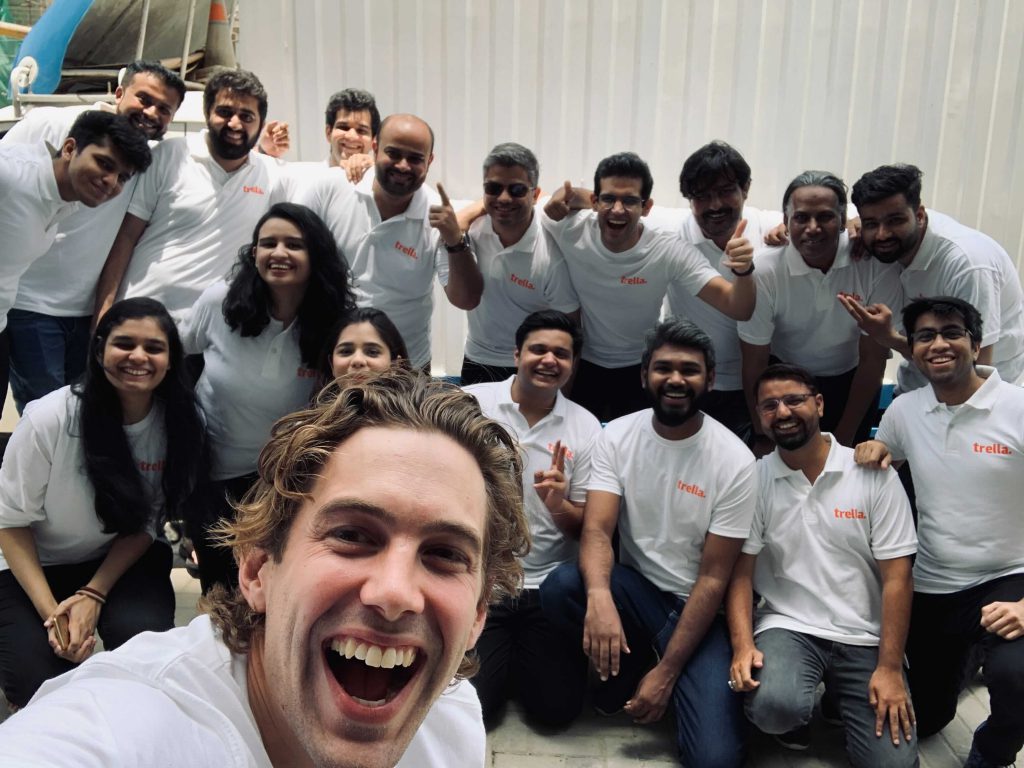 What Next?

The trucking market in Pakistan is critical to the progress of the country, yet its progress continues to be slowed by critical challenges across the logistics industry. Challenges that are most pronounced in the trucking industry. Trella has always seen opportunity in the challenge, and Pakistan is no different. However, the team acknowledges it is an uphill battle, as the age-old saying goes "if it were easy, everyone would be doing it". Yet there is a great determination, and problem-solving capacity, and a true belief that if anyone is going to solve it, we will.

As we continue to become part of the fabric of the Pakistani Transport Market, Trella will double down on innovation and experimentation. We would solve for our customers with new and improved product offerings to reduce the burden of logistics for our shippers and offer a seamless experience to our transporters. We will build alliances and partnerships at a public and private sector level to work towards pushing through technology adoption in the trucking sector.

Trella continues to move forward and upwards with the understanding that every day is an opportunity for learning in this market. Our aim is to continue leading the digital transformation of the logistics industry as we have done in every country of our launch since 2019.

This Blog Post is Co-Authored by Saim Chaudhary and Peter May.