On a Monday afternoon in the middle of March 2019, Trella opened its doors and lunged into the Egyptian startup ecosystem. It started off with the ambition of two young men who saw a mind boggling gap in the Egyptian and global supply chain and logistics industry that has been persistent for centuries, and they decided to do something about it. Swiftly moving from ambition into action, while fielding two more believers in the cause, four idealists started planning out how to create the next big thing in the MEAP regional logistics space.
We operate in an industry that influences on average 12-14% of the global economy and represents over a $50bn market opportunity across the MENAP region, however, it has remained stagnant for many years, needing to change as the world goes digital. It is an industry that has resisted disruption due to its complexity and deeply rooted fragmentation. Complacency has brewed in all those attempting to change something in the system's norms and everyone proceeded with the mantra of "If it's not broken, then why fix it?"
Trella came along and we made a bold choice to take matters into our own hands and revolutionize a broken system in dire need of intervention. We had the belief that we could bring change, so we needed to start somewhere and work our way up. After a lot of meticulous research and studying, we decided to start with the first-mile transportation market. We believed that we could transform the entire industry. We could do so if we digitize this segment of the logistics supply chain and cut the friction in the system by eliminating middlemen and improving the experiences of the customers at both ends of the spectrum.
Trella started off with two promises. The first was to support shippers to always have immediate access to well-curated quality drivers at a lower price than the rest of the market offering and to provide them with the tools and means of tracking and managing their shipments in real-time. The second was to help improve the livelihood of a much neglected and impoverished, yet utterly critical, sector of the society: truck drivers. We promised to provide every transporter on the road with a consistent and increased monthly income while allowing them to gain back flexibility over their lives by giving them control over their work and their schedules.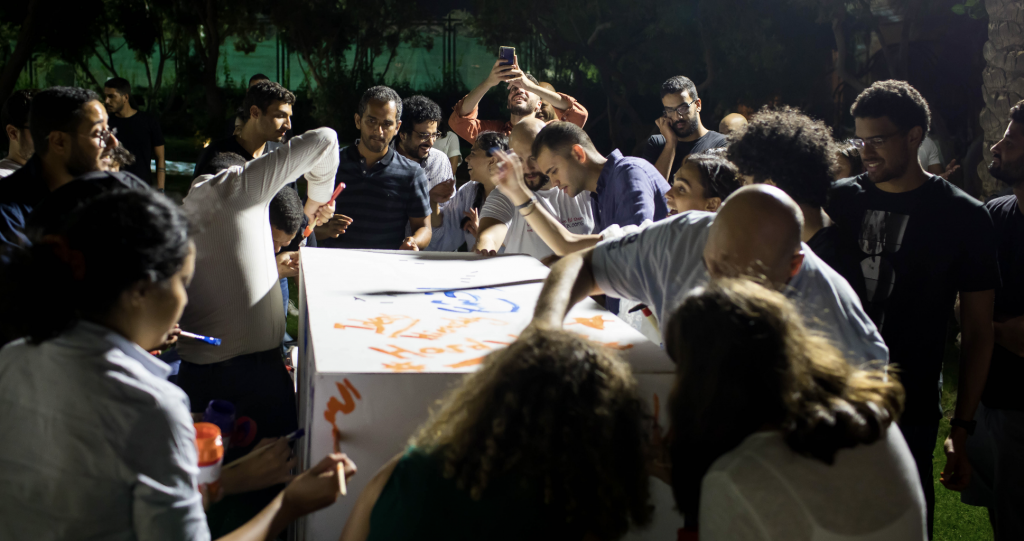 We kicked off our operations two years ago by running a handful of shipments with just 1 company through 2 truck drivers—who we call carriers. Now, we move thousands of shipments a month, working with 350+ shippers and 15,000+ carriers.
What started just 2 years ago with just an idea is now an established company and player in the national and regional e-logistics ecosystem expanding across MENAP, leveraging its 3 countries: Egypt, Saudi Arabia, and Pakistan. And we're just getting started.
Would you like to join us on this adventure? Visit our careers page or email us on jobs@trella.app if you don't see anything that fits.
Behind the Scenes
From the outside in, Fundraising always looks simpler than it is. A few decks, some investor meetings, possibly some time with legal teams dotting 'i's' and crossing 't's', lots of socializing, PR events, and confetti when sharing the announcement. This could not be further from the truth, nor the dream-like wish we originally had. Trella has patiently navigated through the volatile, uncertain, complex, and ambiguous global markets for over 4 months, and having reached what we thought would be the destination, we now know it is only a temporary port for us. Our mission, to provide our community with the technology and platform that reduces the costs of moving goods, requires continued focus and investment, and we're just getting started in ensuring this mission is realized across MENAP.
Every domain, generation, and more broadly, the era has defining moments that change status quos and reshape how things are. In our context, COVID-19 has been this defining moment. It changed our daily lives, how we perceive our surroundings, and how we interact with others. At Trella, it changed how we do business and how we interact with our Shippers, Carriers, and other stakeholders. It also changed how investors evaluate investment opportunities and how they perceive risks and returns.
If anything, Trella has emerged much more resilient, agile, and efficient as a result of COVID-19. After an initial broader economic shock in Q2 2020, we took the time to evaluate the changes, reflect on our modus operandi, and make necessary changes for the new post-COVID-19 world. This was important not only to adapt our business model to the new realities, but to also take advantage of the trends that were here to stay. Automation has been a keyword and we have started seeing significant improvements in our financial and non-financial metrics as a result. Integrated services for Shippers and Carriers are another area of focus, and we have some exciting new Products in the pipeline. We are just getting started on an exciting new journey after what seemed to be a doomsday scenario in 2020!
So, how did this impact our fundraising? One of the fundraising's early stages is to define one's "target investors". COVID-19 has, surprisingly, widened our target investor base because global investors started looking at the Middle East & Africa as a region equipped with incredible scaling potential and talent and most ripe for disruption. Moreover, COVID-19 blurred the lines between industries and business models. Our investors did not just evaluate us as a digital broker or trucking marketplace, but as a full-fledged logistics and financial services provider in-the-making. And our pitch was very simple: we believe we have the best team and the best product in our industry to make this a reality. Period.
This is our vision. We approached our Series A process with the philosophy of only selecting investors that share that vision and were ready to help us get there one milestone at a time.
We are very proud of achieving our $42mil raise because we could not have asked for a stronger investor lineup, co-led by Raed Ventures and Maersk Growth. It is this combination of regional and global VC investors, together with regional Strategic investors that make this round a true success, not only for Trella, but for the regional startup ecosystem at large.
We are looking forward to working with 4DX Ventures, FJLabs, Foundation Ventures, VentureSouq, Vision Ventures, and others to grow our footprint in the region. We cannot wait to unlock significant value working with our partners-turned-investors, including Maersk, ExxonMobil, Nile Projects, and Unidelta. We are also very excited to welcome Flexport as an investor and we look forward to a lot of global learnings and collaborations. We see these partnerships as crucial to expand our Product offerings in our core markets, in line with our strategic vision.
Last but not least, we sincerely thank our existing investors, Algebra Ventures, Next Billion Ventures, and YCombinator for their continuous support and value-add.
What's Next for Trella
We are quite young and still early in our journey, but we acknowledge the responsibility we have towards our communities where mutual dependence exists. Together, we commit to doing what is needed and necessary to moving economies forward. Our task is a big one and we knew that going into the business, but we also knew that the possibilities to impact the lives of others are limitless, so we take that to heart and it keeps us going.
We understand that we are part of a big market of players attempting to crack the same challenges that the industry faces. However, this does not deter us and it only fuels us to improve our own offerings and our ways. We are not competing with the rest as our sole focus is going into building a superior product that embraces technology in a way the industry has never seen before. Once we have achieved that, we will be in a league of our own and it's left for every other player to catch up. Still, we are all aspiring for something bigger than all of us and we are motivated by the progress we see in the industry and we hope that others are inspired by us in return. The success of any player paves the way for others to improve the lives of millions of humans and we can only ever hope that we can play a small part in that.
We believe in the compounding effect. Every day we seek to be 1% better than the day before. We are consistently trying to improve ourselves and our biggest rival is yesterday's version of us. With every developing minute, we are enabled to support our people better, and at the end of the day, isn't that all that matters?
Our work is bigger than all of us. Look around you, chances are that everything surrounding you has been hauled on the back of a truck at one point in its lifetime. Trucking Never Stops and will continue growing to serve the ever-expanding needs of our economies. Today, the land freight market is fragmented which normally leads to inefficient operations. Additionally, the freight market's adoption to technology has been slow. The supply chain has proven a lot of resilience to change and one can make a thousand claims on why the transformation is slow, but the reality is that no one product exists today that satisfies the industry needs. It's not an industry problem, rather an entrepreneurial challenge that did not offer a solution to solve the struggle.
"The reality is that not one product exists today that satisfies the industry needs. "
The core to a digital freight market transformation is automated planning that optimizes for efficiency at scale. Efficiency gains come from better utilization of the resources that are involved in the transportation process. Trella is building technology that will create an ecosystem where:
The trucks are always loaded and on the move,
The driver's working hours are spent driving, not waiting,
The routes are optimized to reduce time and mileage waste,
Detecting and resolving disruptions are automated to minimize human interventions,
The shippers are getting reliability and availability at a competitive cost
The shippers have the visibility and the insights to make decisions more efficiently and in a self-serve manner.
Demand density is the atom of Trella's flywheel that eventually leads to boosted carrier engagement and more efficient planning. This, in turn, leads to a healthier marketplace; increasing carrier availability, boosting reliability, bringing costs down, and boosting demand up. Once this vision is achieved, Shippers can obtain lower rates, and Carriers can have greater economic earning potential leveraging the Trella Platform. Outside of this digital marketplace, any other commercial or broker relationship would appear inefficient in comparison.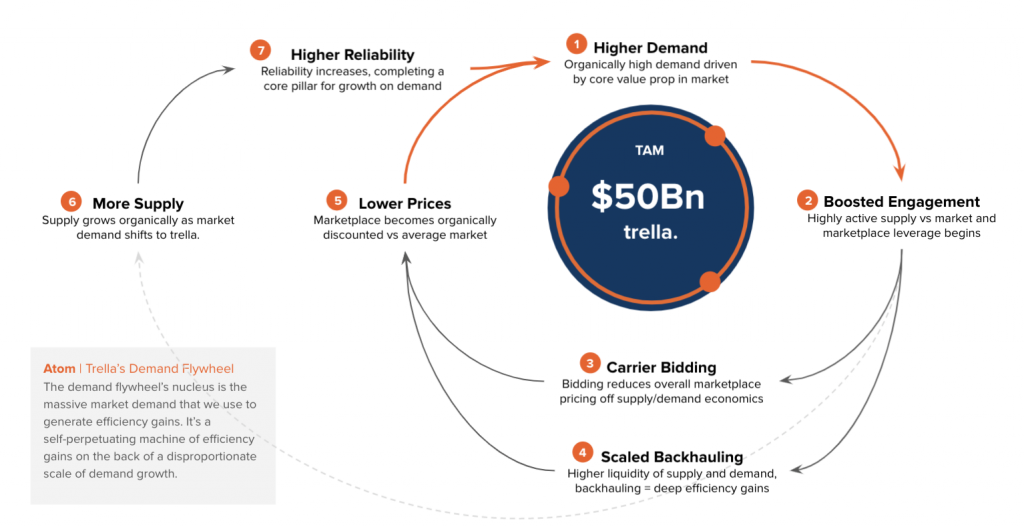 Our Direction: Systems over Processes.
Today, as we announce our Series A, we are more bullish in our direction than ever before. With the $42mil raise, we will double down on our tech capacity and product development to fuel our growth and get us one step closer to our mission: Empowering our Communities to Move Economies Forward.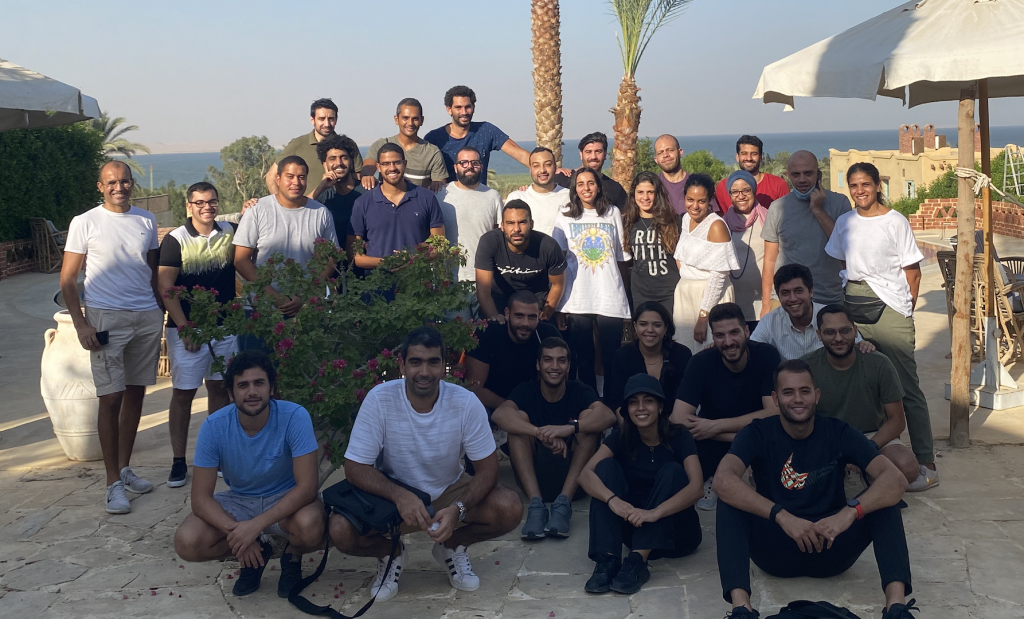 By closely examining our flywheel, and our existing customer engagement and growth characteristics, we are emphasizing how we need to and are moving towards being more of a product-led platform instead of being a service or another operationally-led solution. This won't be immediate, and we do not have all the answers, but we have made this decision and we are investing and focusing our efforts and people on key levers that will propel our momentum and accelerate our speed in getting there.
Below we have highlighted key product features we will be doubling down on as a business over the next 12-18 months:
Algorithmically Matching Loads. Currently operating in three countries with an eye on serving the entire EMEA region, we know that it is almost impossible to scale to be the number one freight marketplace in EMEA without leveraging technology. In a two-sided marketplace with high expectations, we want to invest in a tech-enabled platform that is optimizing for efficiency and quality.

Our Vision is to create an efficient and controlled marketplace that allows us to optimize for any desired quantifiable variable. This will be accomplished through an algorithm that finds the optimum combination of carriers and loads on the marketplace at any moment in time.

Build an Intelligent and Informative Shipper Experience. Shippers today use disconnected tools to connect with multiple brokers/carriers to cover their demands. They spend a long time waiting for quotes and negotiating prices, not having easy access to the market dynamics and insights they need to make better decisions. When shippers finally find the right carrier, it is hard to track the progress of their loads. The shipper experience today is far from ideal and long due for disruption.

Our Vision is to deliver our shippers with an end-to-end self-serve experience to manage their demands and provide them with the visibility and insights they need to empower and simplify their decision-making process.

Enabling a Unique Work Discovery Experience. The main difference between Traditional brokers and the digital freight provider is to give the carrier transparent access to the market and the available work opportunities. We are focusing on providing our carriers with the experience they deserve and the means to control their destiny.

Our Vision is to build a discernible load board that will provide carriers with a stable, reliable, and satisfying source of income while catering as closely as possible to their needs. The planning of a carrier's week/month in terms of loads will be a frictionless experience that requires minimal to no action to be taken from the carrier's side.

Unifying and Digitizing our Load Cycles. By virtue of operating in multiple regions and across multiple verticals, scaling the business becomes increasingly challenging. The cycle is too complex and hyper-local to allow for an efficient build. Being more product-led than ever, we understand that this is troublesome for our growth endeavors and that focusing our efforts here is time well spent.

Our Vision is to contribute to reducing the cost of moving goods by making the end-to-end trip execution cycle more efficient, accurate, touch-less, and/or self-serve. This will allow us to provide our shippers with a consistent and predictable experience with every load they ship with Trella.
Make Something People Want.
Change is the only constant. Building something people want is challenging, but we're lucky to be a gritty team. As we embark on our new journey, fueled by fresh funding, and very ambitious support from Maersk (our investor and shipper partner), we are very excited about our future and confident that we are one step closer to fulfilling our mission.
During one of our visits to YC, Michael Siebel, our mentor, and YC CEO, made a statement to another startup that forever lingers in our minds: "If people are not adopting your platform now and still prefer the old way, it's because you have not built the product they want." We could not agree more: Trella is investing in a different vision for trucking, and we are at the forefront of this change.
Trella ON!