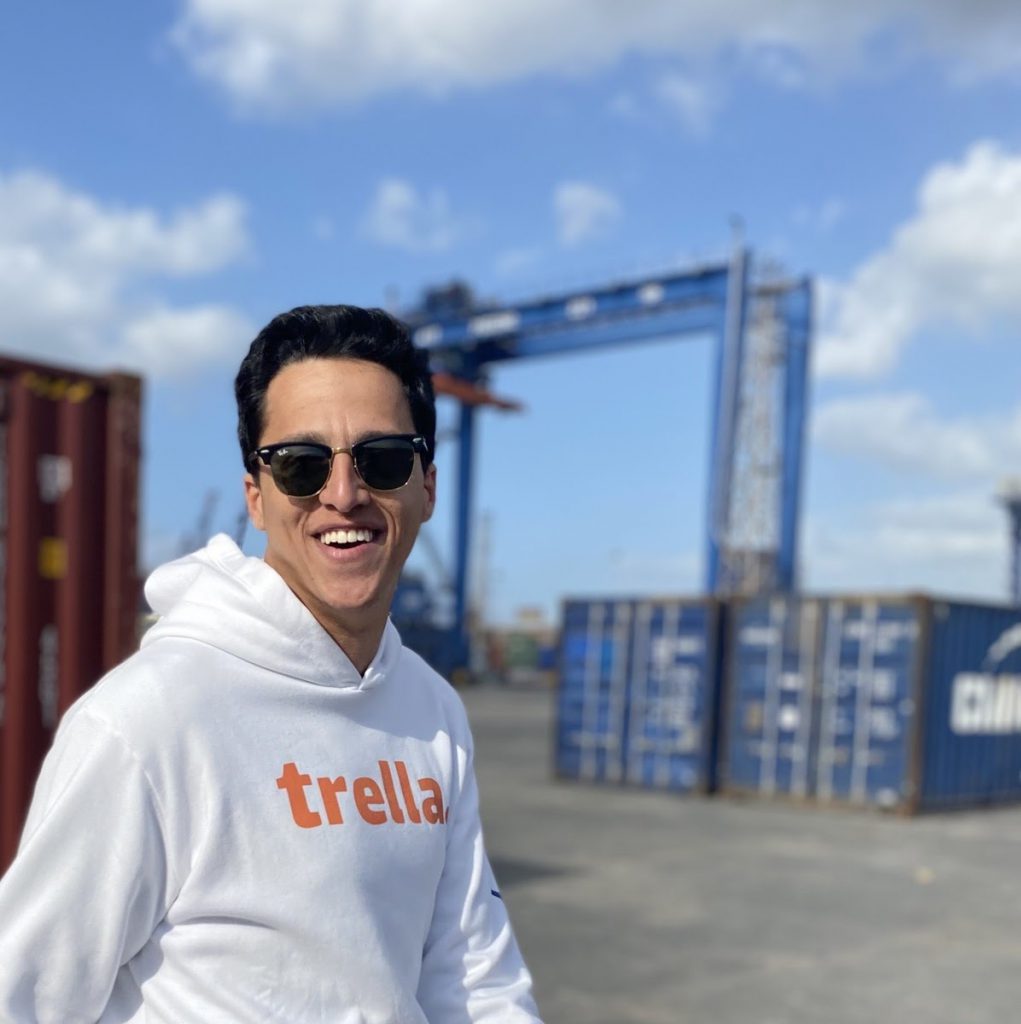 Mostafa Amin leads Trella's Ports Business in Egypt, managing all aspects linked to the growth, digitization, and transformation of this vertical and sector. In the memo below, he shares his thoughts on the market dynamics of containerized freight in the year that's been, and how Trella is enabling the sector.
It's been quite the metamorphic year for people and ports around the world. A little over twelve months ago, corporates and executives were scrounging for solutions as demand plummeted. At the time, no one knew how long this would last, but what a difference a year makes.
After an initial setback in H12020, economies resisted further fallouts thanks to major changes in consumer consumption and shopping patterns. Together with record levels of monetary and fiscal stimuli, this caused a major surge in e-commerce. Consequently, containerized shipping quickly rebounded, even surpassing pre-pandemic levels, by Q42020, as shown in Figure 1 below. As the pandemic drove spending on services down, consumption of goods grew significantly (e.g. the share of US consumption spent on services fell 7% in Q42020 compared to Q42019. In parallel, purchases of goods grew 7% in the same period of time).
Global trade indicators (figure 1 below) show that containerized shipping has shown the most resilience, and least fluctuation, amongst the group.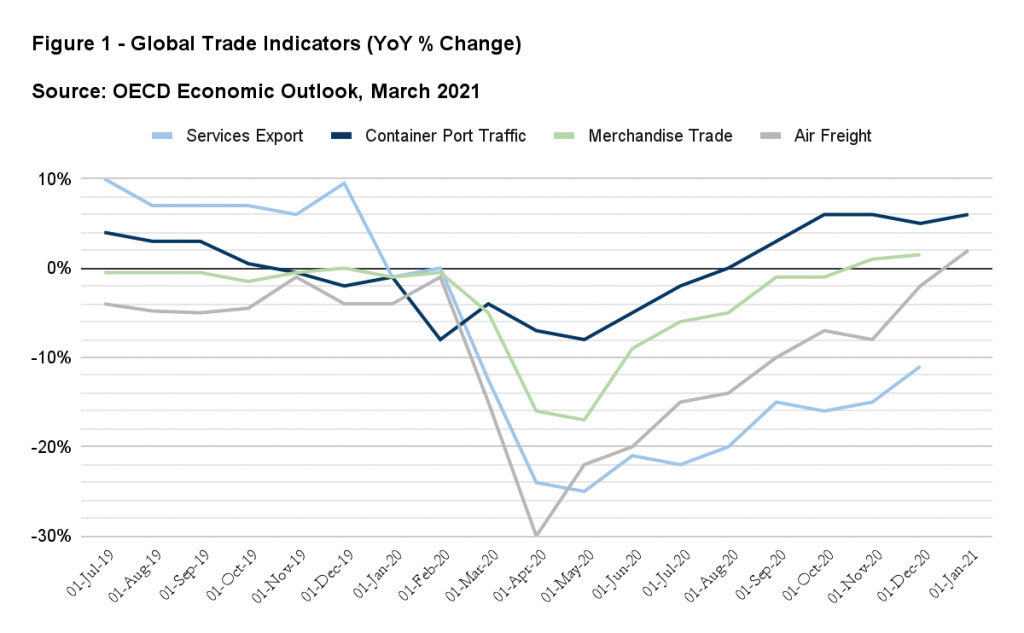 While a welcomed surprise by a lot of our shipping partners, the unexpected jump in demand does not come without its challenges. It has left little room on ships for the repositioning of much-needed equipment (empty containers) which has been caught in locations that are suboptimal for efficiently running currently thriving trade routes or even room for the provision of equipment to meet the demand altogether. A direct result of the shortage of equipment has been the dramatic inflation of shipping and container rates. Take a look at the Drewry World Container Index (WCI). This standardized index is a composite of freight rates of major oceanic lanes, and it sheds light on how expensive it is, or was, to ship a standard 40-foot container at a given time. Today, it has reached values of six times those of pre-pandemic rates (Source: Drewry WCI).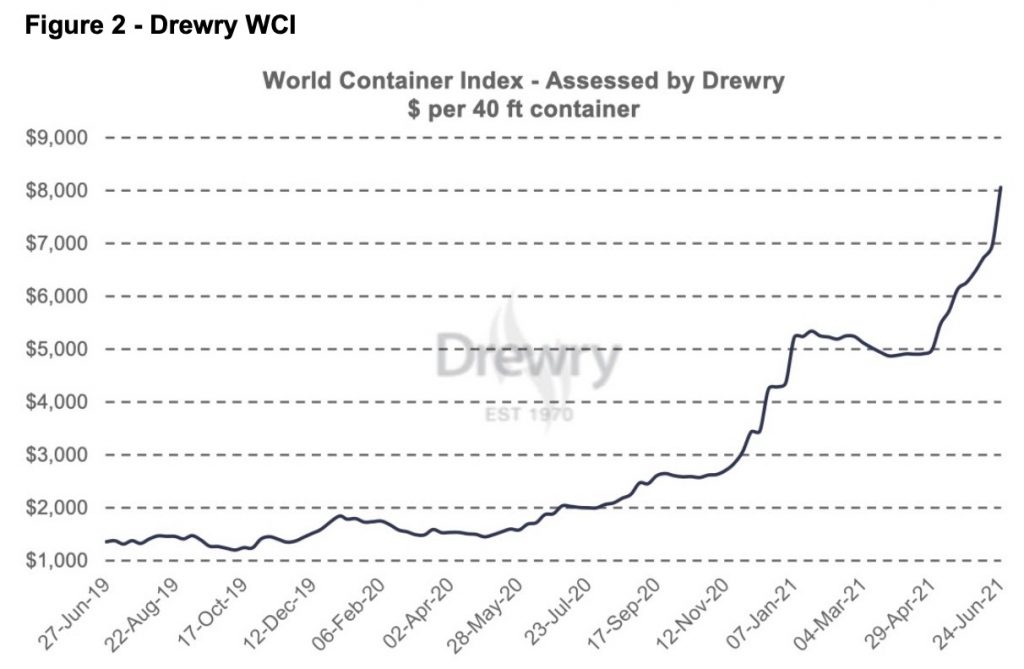 Together, booming demand and a resulting shortage of containers, exacerbate the effect of the pandemic on the logistics industry. Despite these two factors driving a historic peak for shipping companies' bottom lines, operations have been severely disrupted. Measured by the percentage of ships that arrive on, or within a day of, their scheduled arrival dates, schedule reliability has fallen from an average of 85% in Q32019 to an average of 35% in Q12021, as shown in Figure 3 below.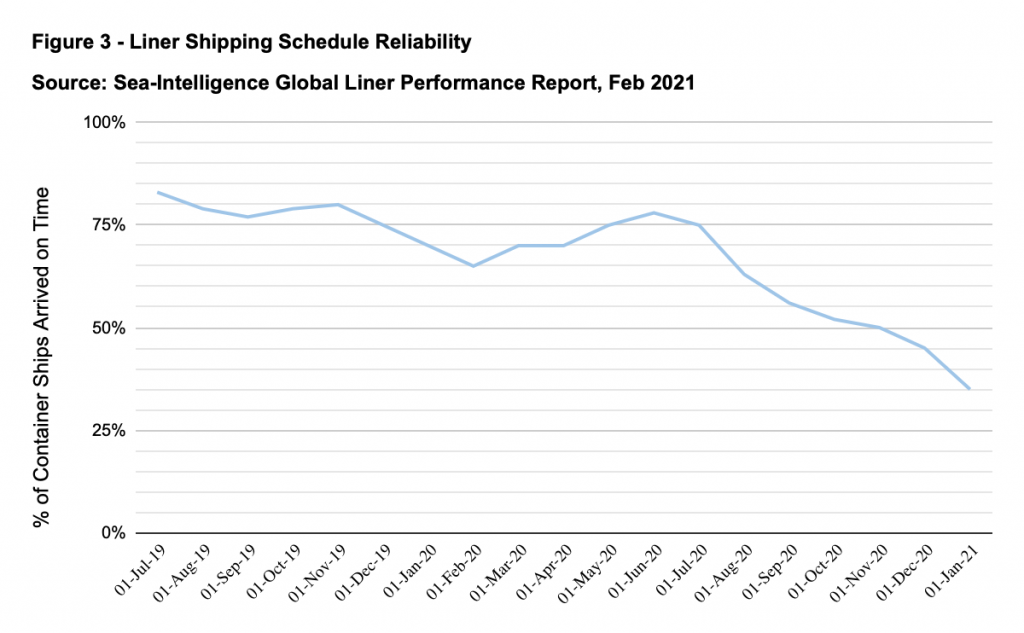 Because it is innately an intermodal transport system, the ports logistics industry is heavily dependent on trucking to complement its ocean transit operations. As such, solutions to the collective cycle are not exclusive to ocean freight and are much welcomed from beyond it.
Now more than ever, an immense need has risen, particularly by those of the shipping industry who aim to provide A-to-Z container shipping solutions, for a trucking partner who is:
Thoroughly perceptive of market dynamics,
Meticulously aware of their own impact on the said market,
Operationally adept to carry massive weights, and
Inherently capable of improving the collective performance and trip cycle, driving efficiencies back into the market.
Here at Trella, we saw it as our duty to do exactly that.
We consider it our mandate, as leading visionaries of the industry, to take on the challenge of restoring, and improving, containerized shipping operations and reliability, hand in hand with our shipping partners.
Continuing to set our customers as our North Star, we at Trella have actively addressed these overarching industry concerns. Building on our thorough understanding of the market, we zeroed in on what our shippers are trying to accomplish and switched up our operational gear to help power them through these trying times, ultimately giving them an enormous competitive advantage in overcoming industry-wide challenges.
In addition to customer-centricity, our agility, flexibility, and adaptability were all key in our operational kick into overdrive.
A few aspects of the empowerment we offered our shippers were:
A developed carrier base that matches the market dynamics, and that is cognizant of its key influences, such as the absolute significance of an empty container – and how vital the duration of its trip is,
Strong focus on optimizing container usage, doubling down on the identification and triangulation of import and export loads, practically eliminating dead legs and cutting down waste at a time when the shippers need to be as lean as possible,
Geographic coverage and expansion, providing a wider array of solutions for a continually unpredictable, fast-paced market,
Enhanced performance, which reached record-breaking trip cycle durations, further optimizing the overall container trip cycle,
Agile methods of pricing and quoting to accommodate an ever-changing operational dynamic,
Dedicated resources, and impeccable execution, for the critical repositioning of containers as needed and directed by the fluctuating demand, and
Perhaps most importantly, a thoroughly collaborative "In It Together" approach, feeding off our central belief that our shippers' challenges are our own.
So, to summarize:
What did we do?
We put our customers at the fore and empowered them to overcome their challenges.
How did that help them?
Our shippers received the right kind of service, one that met their specific shipping needs and helped them provide a better comprehensive service.
What was the result?
Our shippers' success, and ultimate satisfaction, led to stronger adoption of the Trella product, which sent Trella's Ports into an explosive trajectory of growth through H12021 (see Figure 4 below).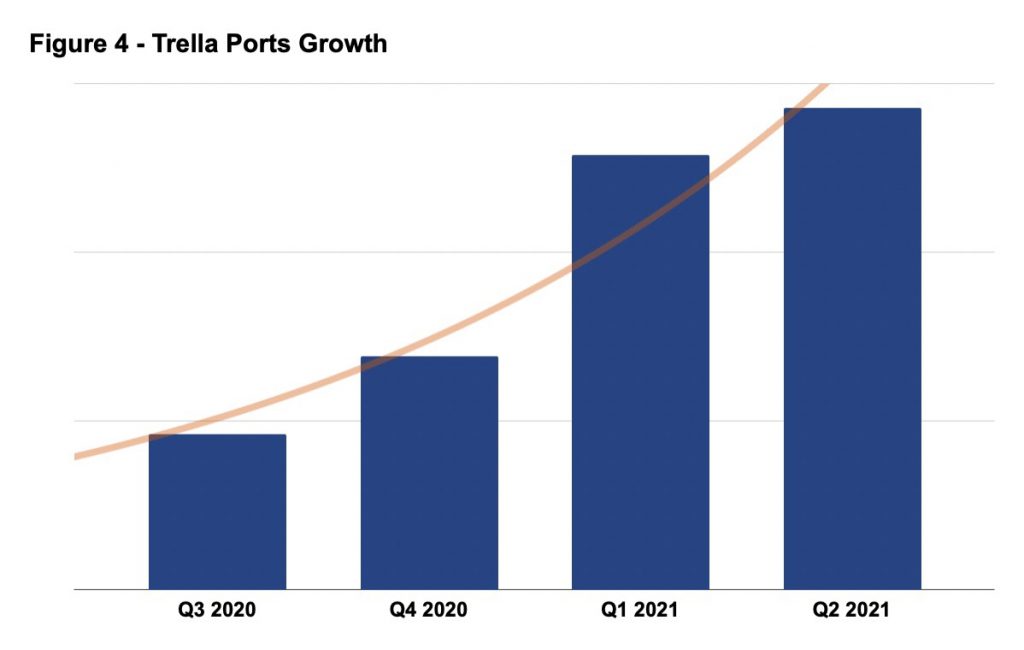 The best part about this is that we've really only just scratched the surface.
While we have actively engaged on the operational frontline, we're yet to showcase everything we have been working on behind the scenes. We've got a lot up our sleeves, and we're currently working with our logistical stakeholders, hand in hand, to roll out a few products that are bound to take the market by storm.
So, watch this space!
Mostafa Amin | Head of Ports