What a month! Reflecting on March, and entering Ramadan, we are filled with gratitude for the platform afforded to us as individuals, and to Trellans, to ensure we are #MovingEconomiesForward and making our societal changes in the ways we know how. We've listed a number of the initiatives, celebrations and engagements we held during the month to showcase how we live our Vision and Values.
On International Women's Day we seized the opportunity to announce the official launch of the Women-In-Trella initiative and ERG group, that aims to Channel, Support, and Celebrate women tailored around the following concepts:
Channel: Encourages, channels, and advocates women's voices within Trella (concerns, opinions, incidents, suggestions, etc) anonymously and openly.
Support: Cater for a culture that is more adaptive and responsive to women's needs.
Celebrate: Recognizes exquisite Trellan Women to celebrate and inspire the world around us.
During the month we launched a number of key initiatives enabling these intentions:
To develop gender smart policies that are encouraging and adaptable to our people, so we made sure this was reflected in launching our Code of Conduct policy,
An anonymous whistleblowing channel accessible through our HRIS,
Availing a well-being day off for both men and women,
Upgrading our medical coverage to increase benefits available to women, and
Aligning our strategy and partnering with WEPs (Women Empowerment Principles) established by UN women and the UN global office to help us analyze and take concrete action through a guided 7 principle methodology.
However the month was not just about launching initiatives, it was also about coming together and having fun. We held country specific and globally relevant events.
On the day, Samantha Fuller (Head Of Communication at YOCO and Ex-Uber) shared her story and talked about how it is to be a woman in a fast-paced work environment, the importance of communication, and how men can be allies in your and the global story.
We then held a hybrid event where we hosted Farah Nofal "The Holistic Well-being coach" at our office aired globally titled "Navigating Well-Being At Crazy Times", where she provided Trellans with practical hands-on takeaways to navigate well-being and integrate it into their daily lives.
Additionally members of Trella participated at Egypt Women Rising, where Habiba Issa and Alia Hosny provided their insights on group panels with Dr. Sahar Nasr; Former Minister of Investment and IC, Dr Reem Saadi; Regional Principal Manager Of EBRD and other influential female leaders. And participated in the Diversity & Inclusion Panel at the Supply Chain Innovation Summit.
On a country level,
In Egypt, women got a day off work to experience a fun, relaxing day at Ahimsa. 
In Pakistan and Dubai, Trellan ladies went on a relaxing day at the Spa while 
In Saudi Ghalya ElRefaie; Saudi HRBP hosted Group Chief Human Resources Officer "Magdoline Boukhary" for a talk to our KSA women where they held a love chat talking about change of Saudi policies and how can women in workplace benefit from that, and women empowerment in workplace.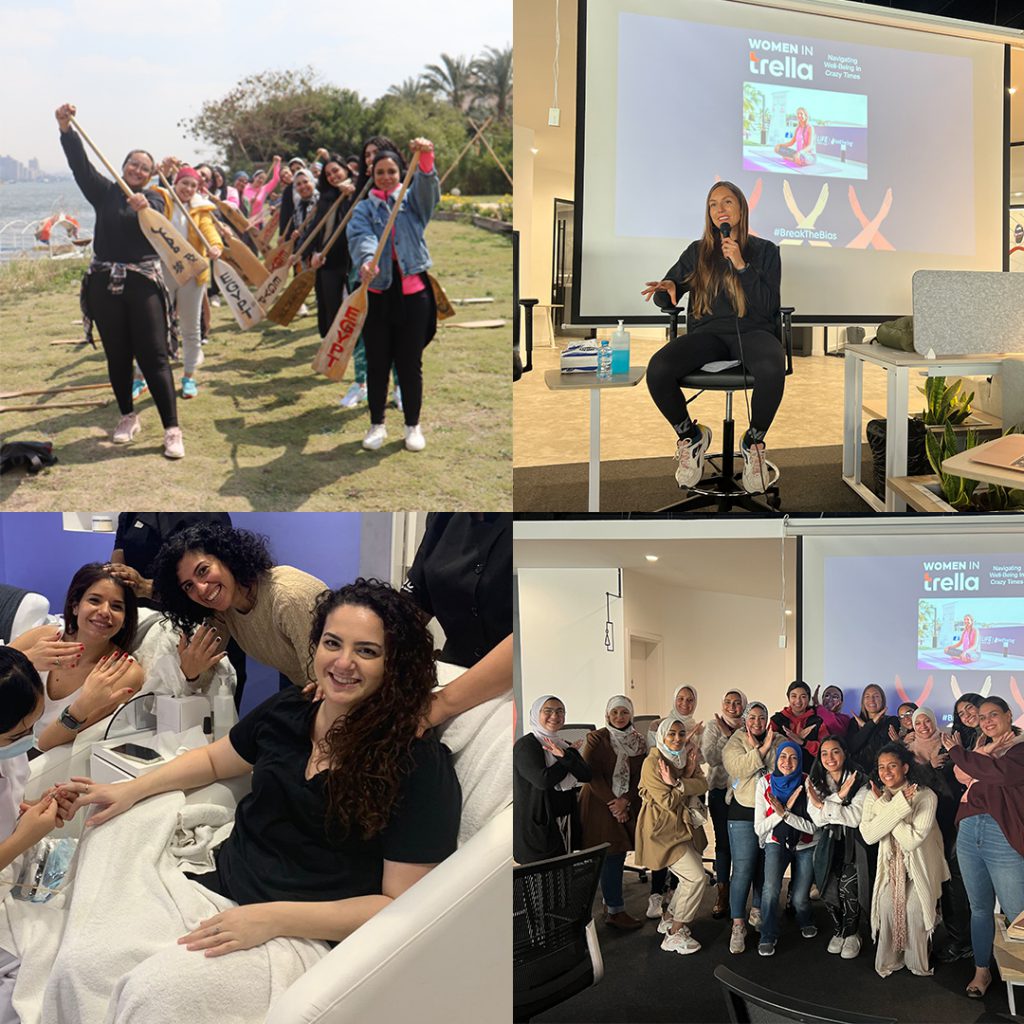 Let's #BreakTheBias together, if you're interested to know more about Trella or explore career opportunities, please explore our careers site, or contact careers@trella.app.