Before there was an application, before there was funding, before there were trucks, there was George.
Affectionately known as "Jorje" around the office, George was Trella's very first employee. He has graciously agreed to sit down with us for a chat, which we appreciate because anything non-tech-related is generally considered frivolous by George. 
"Jorje, would you agree that to quit your job and join a non-funded startup, you have to be a little crazy?
"A little, yes"
"How did it happen then? What drove your decision to become a part of Trella?"
"It was pretty simple. Pierre Saad CTO, who I'd known for a very long time, pulled me into a cafe in October 2018 and sat me down in front of Omar Hagrass CEO. An hour later, with a head full of wild dreams and unreasonable plans, I accepted a job at Trella.
In retrospect, I guess I went for it because I could tell there was passion and a certain boldness behind their plan. It seemed like they really knew what they were doing and I wanted to be part of it."
"That still sounds like a difficult one – deciding to leave a stable job at a reputable company, for another company that's not quite yet a company… Did you have moments of doubt after you'd made that decision?
"As a self-proclaimed introvert and minimal risk-taker, I definitely struggled in the earlier days when we were trying to 'go big' as a company and had to take large bets on ourselves. But honestly, once I saw how, as a unit, we were able to effectively and efficiently deal with our first crisis, I never looked back. At Trella, I learned that it was ok to be bold, to try and to fail, to always be ready, and to pivot when necessary.
Just now I took a look at our load count – tens of thousands of shipments being serviced by a team of more than 70 people in ops, sales, tech, and product, across two countries and eight offices. It's crazy to think this is the same company I joined just 19 months ago."
"What were those early days like? You must have some interesting stories to share."
"Hahaha yeah, I can regale you with countless logic-defying feats from our early days… 
There was our first office – Hagrass's garage – where we didn't have wifi, and were basically going bankrupt topping up on mobile data.
My second day on the job, when Pierre walked up to me and said we needed to have a working prototype of the application for all of our partners within 2 weeks (which we managed, somehow).
When our first investor came to check on our progress with the app and found us all scrubbing the floor of the garage trying to make a good impression.
When I, possibly the least creative person in the world, was asked to produce designs because we couldn't afford to pay a designer.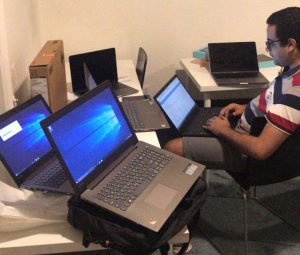 Even when we landed our first big shipper in February to do 100 loads in a month – which at the time we thought was massive!
Looking back, you can see how things just snowballed after that first 100."
"Snowball they did…  So what have you enjoyed, appreciated, or learned throughout this journey?"
"Without a doubt – the people! The team has to be the thing I love most about Trella. Everyone excels in their field, and everyone lends a helping hand – from the most senior to the newest intern, there is no rigidity! Propping one another up and imbuing others with a sense of ownership is the motto at Trella.
I feel at home here, like I'm with my family. I'm genuinely proud that I was able to contribute to Trella's growth and transformation. It's just so rare that a startup really takes off, and it makes me feel like I, and this company, are special.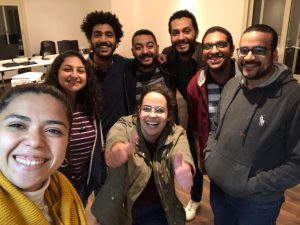 What I've personally learned the most is how to transform individual actors in a team into a cohesive unit: goal setting – accountability – planning."
"Tell us about one proud moment that you won't forget"
"There are a lot actually! If I had to pick a favorite though, then it would be when we got into YC. It was at that moment that I knew we were going to boom, and we were destined for great things."
"What are your key takeaways from this experience so far?"
"Always speak up. Always share. Always strive to improve"
I've developed a lot. As I mentioned earlier, I'm an introvert in one way or another, and I've learned since joining Trella to speak up, to push my ideas and always share my input. That space and freedom of opinion is what Trella was founded on from day one.
I'll leave you with a few parting words.
"If this team was literally up for anything, I'd make sure to be the first one there, as I am confident the outcome would be as awesome!!!" — George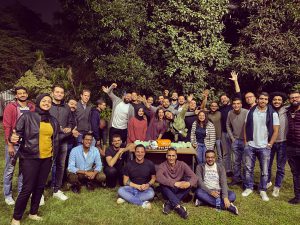 Stay tuned for more stories …